Three Rock 'n' Roll Icons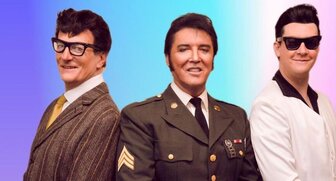 Showing:
22 July
Bar open 6pm
Dinner served from 6.15pm
Performance at 8.15pm
An uplifting two hour Rock 'n' Roll show that will have you dancing in the aisles to all your favourite tunes!
Firstly, a sensitive tribute to the British King of Rock 'n' Roll, Billy Fury, with songs including I Will, Another You, I Believe, and Halfway To Paradise.
Next, Marc Robinson dons the oh-so familiar horn rimmed glasses, picks up his famous Stratocaster guitar and joins his four-piece band, The Counterfeit Crickets, to give you a true taste of Buddy Holly. This authentic set includes such nostalgic hits as Heartbeat, It Doesn't Matter Anymore, Peggy Sue and True Love Ways.
Finally, we bring you Elvis, the ultimate King of Rock 'n' Roll himself. What more can you say about Elvis? From That's All Right Mama to G.I. Blues, plus all the earlier favourite songs, no show about the Rock 'n' Roll era would be complete without him.
So, bring along your dancing shoes and join our three West End artists in paying tribute to three Rock 'n' Roll icons.
Will Rock 'n' Roll ever die? That'll be the day!