Incredible Magic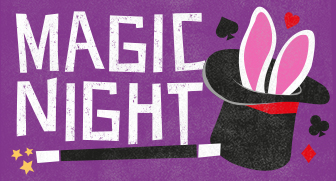 Dinner from 6pm
Performance starts at 8pm
Please check your designated arrival time
DAN HUDSON presents this show with his incredible magical friends who promise to amaze and astound you!
On Thursday 26 November you will be entertained by PAUL MARTIN and JAMIE RAVEN.
Paul Martin's mix of stand-up comedy, mind reading and magic is simply amazing. He will have the whole theatre in the palm of his hand and wanting more.
Jamie Raven burst onto an unsuspecting world during the 2015 series of BRITAIN'S GOT TALENT. His magic amazed audiences and even made Simon Cowell exclaim 'I now actually believe in magic!' on route to finishing, in his own words "Top Human." In November and December 2015 Jamie headlined "The Illusionists" at The Shaftesbury Theatre, which went on to break the Box Office record and in doing so became the most successful Magic Show ever in the history of London's West End. Following the incredible success of his live shows and countless TV appearances, he was invited to St James Palace to perform privately for HRH Prince Charles as part of his Christmas celebrations in 2018.
When booking you will be given a designated arrival time. We politely ask you to keep as close to this time as possible to ensure a safe entrance to The Mill. Please remember that you will be required to wear a face covering when entering and moving within the building. You will also be asked to wear your face covering during the show. You can remove the face covering when safely seated at your restaurant table.