A Modern-Day Supernatural Thriller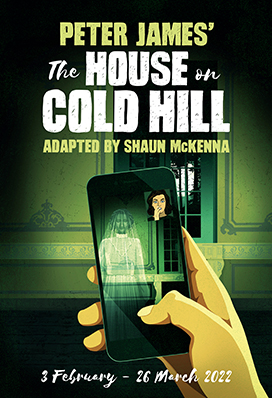 Showing:
3 February - 26 March
Evening performances Wed - Sat
Sat matinees every week
Sun matinees from 13 Feb
ALL TICKETS INCLUDE A DELICIOUS TWO-COURSE MEAL IN THE RESTAURANT BEFORE THE SHOW
FOR MATINEE PERFORMANCES:
Restaurant open and serving lunch from 12.15pm – 2pm
Performance starts 2.15pm
FOR EVENING PERFORMANCES
Restaurant open and serving dinner from 6.15pm – 8pm
Performance starts 8.15pm
Following the incredible sell-out success of NOT DEAD ENOUGH, THE PERFECT MURDER and DEAD SIMPLE, the No. 1 best-selling author Peter James is back with a spine-tingling new play.
A ghostly story of the Harcourt family, who move into the house of their dreams that has been empty for the last 40 years. However, their dream home quickly turns into the stuff of nightmares as they begin to wonder whether they may not be the only residents at Cold Hill…
THE HOUSE ON COLD HILL is a modern-day supernatural thriller that will send shivers down your spine and make you think twice about returning to a dark, empty house after the show.
Adapted For The Stage By Shaun McKenna
'…will leave you breathless with suspense' – Whatsgoodtodo
'A genuine spooky thriller with a distinctly modern twist' – The Reviews Hub
'Highly recommend this to everyone who enjoys this genre' – The Hollywood News
'Spine-chilling… an excellent evening's entertainment' – Eastwood Advertiser
IMPORTANT INFORMATION FOR YOUR VISIT – COVID SAFETY INSTRUCTIONS
For the safety and reassurance of our guests, we kindly request that all audience members over the age of 11 bring with them proof of double vaccination. You can present this via the NHS Covid Pass within the NHS App or by showing your NHS Covid Pass Letter or the card that you were given at the vaccination centre.
For extra safety, we are also now requesting that customers bring a negative lateral flow test along with them. Please do this test on the day of the performance that you are attending.
To help with the smooth operation of your visit it would be greatly appreciated if you could have your proof of double vaccination and negative lateral flow test ready to show as you enter The Mill.
In accordance with the government's announcement that mask wearing is now mandatory we ask all patrons to wear masks when walking around the building, ordering at the bar and while watching the show. All of our staff will be wearing masks and they all take lateral flow tests regularly. The performers test every day to enable them to work without masks.
Your cooperation is much appreciated.
Enjoy your visit!!
Director
Keith Myers
Set Designer
Alex Marker
Cast List
Hannah Boyce
-
Jade
Dan Buckley
-
Chris
Harry Gostelow
-
Fortinbras
Kevin Hand
-
Phil
Madeleine Knight
-
Caro
Debbie McGee
-
Annie
Matt Milburn
-
Ollie