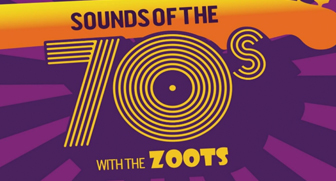 EVENING PERFORMANCE ONLY
6pm for dinner, 8pm for evening performance
The Sounds Of The 70's have wowed audiences of stage and screen in more than 30 countries – and now you can experience their smash 70s show, in all its poptastic glory! This amazing 70's tribute show has it all! as they explore the sounds of Abba, T.Rex, Queen, Bowie, Mud, The Sweet, Dolly Parton, The Rolling Stones, Chic and other
amazing Seventies legends! Hear the music from the musicals Grease, Saturday Night Fever and Rocky Horror Picture Show. Their Nan's call them "dishy"! Glam Rock to Prog Rock, Motown to Disco. The Sounds of the 70's are five talented young performers called 'The Zoots'.