A Night of Mind-Blowing Magic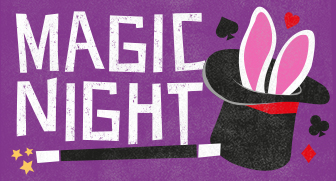 Bar open from 6pm
Dinner served from 6.15pm
Performance starts at 8.15pm
Prepare to be amazed by Jamie Raven, Matt Daniel Baker and Etienne Pardier in this extraordinary show presented by Dan Hudson, Member of the World Famous Magic Circle.
Tickets include a delicious Two Course Meal in our restaurant before the show.
Jamie Raven is a Magician and Illusionist, who burst onto an unsuspecting world during the 9th series of Britain's Got Talent. His performances have now been seen over 800 million times, making him one of the most-watched magicians in the world today.
Matt Daniel Baker is one of the greatest performing mind readers in the world. He has been thrilling audiences around the world for almost 20 years with his exciting and bewildering combination of phenomenal mind reading and lightning speed humour!​
Etienne Pardier has won countless awards during his 25 years of performing magic at the highest level. He is one of the only 200 people to be presented a gold star membership and been promoted to the Inner Magic Circle. If you want to be amazed, look no further!