Adaptation by Michael J Barfoot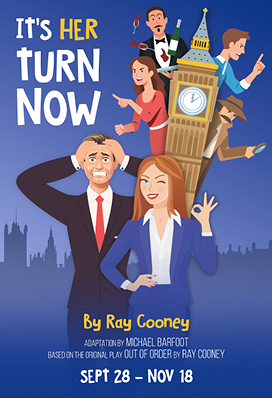 Showing:
28 September - 18 November
Evening shows Wed - Sat
Sat matinees every week
Sun matinees from 8 Oct


ALL TICKETS INCLUDE A DELICIOUS TWO-COURSE MEAL IN THE RESTAURANT BEFORE THE SHOW. 
FOR MATINEE PERFORMANCES:
Restaurant open and serving lunch from 12.15pm – 2pm
Performance starts 2.15pm
FOR EVENING PERFORMANCES
Restaurant open and serving dinner from 6.15pm – 8pm
Performance starts 8.15pm
By Ray Cooney
Adaptation by Michael J Barfoot
Based on the original play OUT OF ORDER by Ray Cooney
OUT OF ORDER is Ray Cooney's classic farce about MPs behaving badly. Here it has been turned on its head and adapted so that it is female MPs behaving badly.
When Rebecca Willey MP, a government Junior Minister, plans to spend the evening with John Worthington, special advisor to the opposition, they check into a hotel for their naughty affair. Except things start to go disastrously wrong!
A conniving waiter, a suspicious hotel manager, an alert private detective, an angry wife, a furious husband, a bungling secretary, an unconscious nurse, and  – let's not forget – a dead body, all put Mrs Willey's career in serious jeopardy.
Sally Hughes says: "I was invited to the read through of this play as we were coming out of lockdown. It was a late summer's afternoon in Ray Cooney's garden with a few invited producers and a wonderful cast. We all knew and loved the original version of the play OUT OF ORDER and didn't know what to expect. Well it was a riot. We laughed until tears ran down our faces."
This classic farce is absolutely jam-packed with all the hilarious ingredients for a wonderful evening's entertainment.
Playwright
Ray Cooney
Adapted By
Michael J Barfoot
Cast List
Raphael Bar
-
John Worthington
Jules Brown
-
Nurse Foster
Eric Carte
-
Mr Willey
Felicity Duncan
-
Georgia Pigden
Elizabeth Elvin
-
Mrs Willey
Harry Gostelow
-
The Manager
James Holmes
-
The Waiter
Michelle Morris
-
Tracey Worthington
Charlie Parker-Swift
-
The Body