Ira Levin's Classic Thriller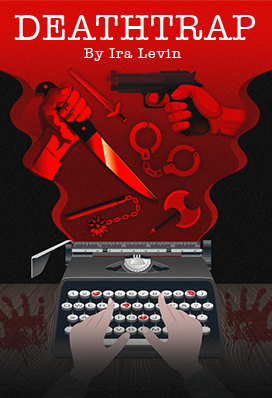 Showing:
8 February - 30 March
Evening shows Wed - Sat
Sat matinees every week
Sun matinees from 18 Feb
ALL TICKETS INCLUDE A DELICIOUS TWO-COURSE MEAL IN THE RESTAURANT BEFORE THE SHOW. 
FOR MATINEE PERFORMANCES:
Restaurant open and serving lunch from 12.15pm – 2pm
Performance starts 2.15pm
FOR EVENING PERFORMANCES
Restaurant open and serving dinner from 6.15pm – 8pm
Performance starts 8.15pm
Ira Levin's classic thriller has never failed to keep audiences on the edge of their seats.
Sidney Bruhl, a once-successful playwright now struggling for a hit, has invited the younger and aspiring writer, Clifford Andersen, to his home to discuss Clifford's brilliant new play.
However, as the night unfolds, it becomes clear that things are not as they seem. As the tension builds and dark secrets are revealed, Sidney and Clifford become embroiled in a deadly game of cat and mouse.
With unexpected plot twists, clever dialogue, and plenty of suspense, DEATHTRAP is a thrilling theatrical experience that will leave you guessing until the end.
IRA LEVIN is recognised as one of the most accomplished writers of supense and horror fiction of all time. His most popular novels include "Rosemary's Baby", "The Stepford Wives", and "The Boys from Brazil", all of which, alongside "Death Trap" were adapted into successful films.
The Mill is excited to welcome back director TAM WILLIAMS who has delighted Mill audiences recently with productions of STILL LIFE, HAY FEVER, BLITHE SPIRIT, HOUND OF THE BASKERVILLES and the upcoming TWELFTH NIGHT.
4 Tickets for the Price of 3 on Weekday Evenings (Offer expires 2 October 2023).