Directed by Sally Hughes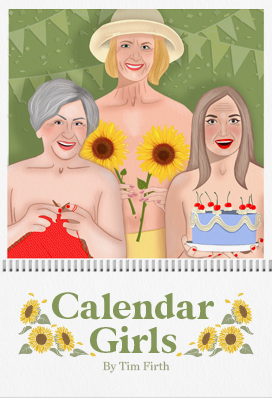 Showing:
11 April - 1 June
Evening shows Wed - Sat
Sat matinees every week
Sun matinees: 21 & 29 April, 12 & 19 May
ALL TICKETS INCLUDE A DELICIOUS TWO-COURSE MEAL IN THE RESTAURANT BEFORE THE SHOW. 
FOR MATINEE PERFORMANCES:
Restaurant open and serving lunch from 12.15pm – 2pm
Performance starts 2.15pm
FOR EVENING PERFORMANCES
Restaurant open and serving dinner from 6.15pm – 8pm
Performance starts 8.15pm
This heartwarming and hilarious play by Tim Firth is based on a true story and the hit 2003 film.
When Annie's husband dies of leukemia, she and her best friend Chris decide to raise funds for the local hospital. Despite raised eyebrows from the local community they create a calendar featuring themselves and their friends from the Women's Institute…in tastefully nude poses.
As they embark on their fundraising journey over the seasons, the friends discover a newfound sense of confidence and sisterhood, breaking free from societal expectations of middle age. And as the word begins to spread, these Calendar Girls begin to turn heads and capture hearts around the world.
Destined to make you laugh, make you cry and make you blush! CALENDAR GIRLS is a glorious celebration of friendship, community, and the power of ordinary people to make a difference.
4 Tickets for the Price of 3 on Weekday Evenings (Offer expires 6 November 2023).