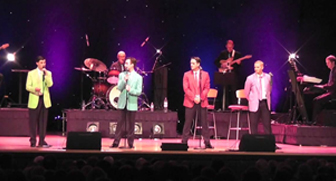 Show starts 8.15pm
Bar from 6pm until 11pm
Dinner from 6.15pm until 8pm
MANHATTAN MUSIC Presents 'Big Girls Don't Cry' (featuring The Eastcoast Boys)" The Eastcoast Boys are coming to Sonning! This great feel-good show features four phenomenal singers and a fantastic live band recreating the iconic sound of Frankie Valli and the Four Seasons. Songs include "Sherry", "Grease Is The Word", "Bye, Bye, Baby (Baby Goodbye)", "Beggin'", "Silence Is Golden", "Working My Way Back To You", "December, 1963 (Oh, What A Night)" plus many more. If you enjoyed Jersey Boys, you'll LOVE this show!