A Day with Natalie Titchener, The Mill's Costume Designer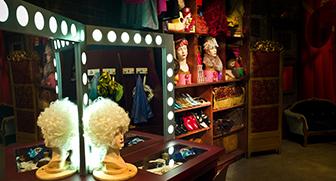 10am - 5pm
If you loved the costumes from our musicals why not spend spend a day in the theatre with Natalie Titchener and her team?
The day starts with coffee and introductions in the Waterwheel Bar. Natalie will then whisk you into the theatre to tell you what inspires her when designing; how she makes the costumes; give you tips on making your own clothes; give you demonstrations on wigs, special effects such as blood and scars and how to make one of those beautiful hats from MY FAIR LADY.
At 12.30 enjoy a delicious Lunch in our restaurant. Then in the afternoon it will be your turn to make a hat. We will supply you with the materials and feathers. Natalie and her assistants will be on hand to teach and help. To round the day off an afternoon cream tea will be served with a glass of bubbly. And you will have a beautiful hat to take home with you.
A Fun & Fabulous day out!