A Romantic Comedy by Jill Hyem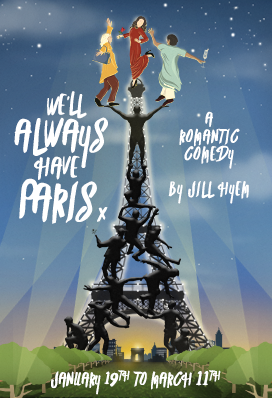 Showing:
19 January - 11 March
Bar open from 6pm
Dinner from 6.15pm
Performance from 8.15pm
ALL TICKETS INCLUDE A DELICIOUS TWO-COURSE MEAL IN THE RESTAURANT BEFORE THE SHOW. 
FOR MATINEE PERFORMANCES:
Restaurant open and serving lunch from 12.15pm – 2pm
Performance starts 2.15pm
FOR EVENING PERFORMANCES
Restaurant open and serving dinner from 6.15pm – 8pm
Performance starts 8.15pm
Ah, Paris! The rooftops, the organ grinders music, The Frenchmen with a penchant for 'English ladies…'
Three women of a certain age gravitate to Paris. There's Nancy, a retired Headmistress determined to throw off her shackles; Anna, recently widowed – and free – after years of nursing a sick husband; and Raquel, a divorcee in search of eternal youth and a new toy boy. Add to the mix Charlot, an actor turned handyman who eventually fixes more than just a leaky shower and Madam Boussiron, the archetypal dragon of landladies.
Penned by the wonderful Jill Hyem – writer of TV series Tenko, Howard's Way, Wish Me Luck, The House of Elliot – WE'LL ALWAYS HAVE PARIS is a feel-good play with laughter and tears. The promise of romance. Lovely love and not so lovely anger. Friendship and loyalty. And the advantages of growing old. Perhaps not La Vie en Rose, but certainly a night to leave you charmed, amused, thoughtful – and most definitely smiling. Not to be missed!
Director
Sally Hughes
Set Designer
Michael Holt
Costume Designer
Natalie Titchener
Lighting Designer
Graham Weymouth
Casting Director
Kate Plantin CDG
Cast List
Debbie Arnold
-
Raquel
Basienka Blake
-
Madame Boussiron
Elizabeth Elvin
-
Nancy
Richard Keep
-
Charlot
Natalie Ogle
-
Anna