The Best Big Band In The Land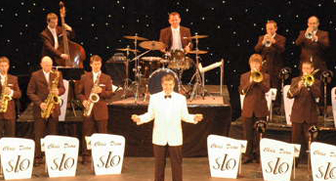 Showing:
16 October
Dinner from 6.15pm
Performance from 8.15pm
From the 'Syd Lawrence Orchestra' The "Best Big Band in the Land" directed by Chris Dean brings the music of swing era Back to life with the youthful verve that made It the smash hit pop music of it's day. Featuring the music of Glenn Miller, Count Basie, Tommy Dorsey, Quincy Jones, Billy May, Frank Sinatra, Ella Fitzgerald and many more. Presented with a mixture of fun, laughter, Excitement and comedy to make for a swinging and memorable evening.