Back to the Roaring Twenties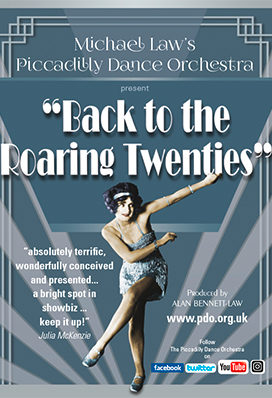 Bar open from 6pm to 11pm
Dinner served from 6.15pm
Performance starts at 8.15pm

Michael Law's Piccadilly Dance Orchestra presents: "Back to the Roaring Twenties"
Banish lockdown blues and celebrate the new 'twenties' decade by stepping back into the 1920s – the freewheeling Charleston era of Flappers, Cocktails and Bright Young Things!
Relish our selection of great songs, jazz and dance numbers, performed by the ten superb musicians of The Piccadilly Dance Orchestra, a fabulous female vocalist and The PDO's founder and band leader Michael Law.
"Absolutely terrific, wonderfully conceived and presented…the PDO is a bright spot in showbiz…keep it up."
Julia McKenzie Singin' in the Rain – Let's Do It – Charleston – Ain't Misbehavin' – Happy Feet – When You're Smiling – Henderson Stomp – Glad Rag Doll – If I Had a Talking Picture of You – Tea for Two – I'm Gonna Meet My Sweetie Now – Jubilee Stomp – I'm Looking Over a Four-Leaf Clover –You're the Cream in My Coffee
Tickets include a Two Course Meal in our restaurant before the show.
IMPORTANT INFORMATION FOR YOUR VISIT – COVID PASS INSTRUCTIONS
For the safety and reassurance of our guests, we kindly request that all audience members over the age of 11 bring with them proof of double vaccination, a negative COVID lateral flow test or natural immunity.
This can be done via one of the following ways:
Proof that you have received both doses of a COVID vaccination at least 14 days prior to your visit. You can present this certification via the NHS Covid Pass within the NHS app, or by showing us your vaccination card or your NHS Covid Pass letter (if you do not have a smart phone)
Proof of a negative lateral flow test via the NHS Covid App or a text message or email from NHS Test and Trace. This test must be taken within 48 hours of your visit
Proof of natural immunity based on a positive PCR test taken within 180 days of your visit. Please present this proof via the NHS Covid Pass within the NHS App or in the form of a letter via the NHS
To help with the smooth operation of your visit it would be greatly appreciated if you could have your proof ready to show as you enter The Mill.
Thank you for helping us keep our customers and staff safe.