An Immersive Theatrical Experience in our Waterwheel Bar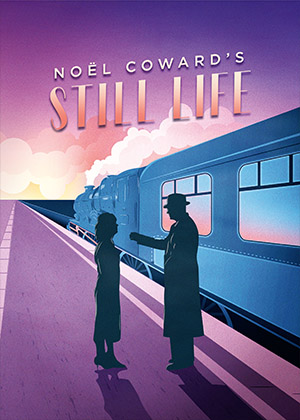 Showing:
23 August - 27 August
Matinee & Evening Shows on
23, 24, 25, 27 August
Matinee times – Bar opens at 1.00pm for Food & Drinks, Show starts at 3.00pm
Evening times – Bar opens at 5.30pm for Foods & Drinks, Show starts at 7.30pm
After the incredible sell-out success of STILL LIFE, we are delighted to bring this exciting, immersive theatrical event back to the Waterwheel Bar for another run.
You, the audience, will sit at tables in the bar, as you are actually in Milford Junction Railway Station itself, as the play will begin, right there amongst you.
The play is STILL LIFE, that poignant and romantic tale of forbidden love written by Noel Coward – the inspiration of David Lean's classic film BRIEF ENCOUNTER, surely one of the most haunting love stories ever told.
Directed by Tam Williams, the play is performed by a talented cast of actors with live music and steam train effects to add atmosphere.
Food is not included in the ticket price but you will be able to buy Lunch, Supper or a scrumptious Afternoon Cream Tea if you wish to. You will be contacted by us nearer the date of the performance you are attending to ask for your food choices.
We only have a limited number of performances and seats, so book soon. After all you don't want to miss the train!
Tickets £30 (not including Food or Refreshments)
Production Photography taken by Andreas Lambis Photography
https://www.andreaslambis.com/
THE HURLINGHAM FESTIVAL
Still Life will also be performed at The Hurlingham Festival on Tuesday 30 August 2022 (performances at 4.30pm and 8pm).
Click here for full details of The Hurlingham Festival, or click here to visit the booking page. Use code STLI at checkout.
Director
Tam Williams
Cast List
Alasdair Craig
-
Alec Harvey
Elizabeth Elvin
-
Myrtle Bagot, Dolly
Antony Jardine
-
Albert, Stanley, Bill. Johnnie
Emily Panes
-
Beryl, Mildred, Young Man and Musical Director
Rachel Pickup
-
Laura Jesson