Sponsored by Len & Ann Roberts and Liz & Dave Lawrence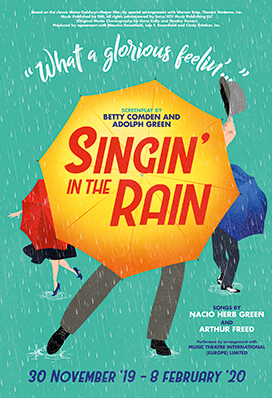 Showing:
30 November - 8 February
Evening shows: Tuesday - Saturday
Sunday evenings: 14, 22 & 29 December
Sat matinees every week, Sun matinees from
8 December, Friday matinee - 27 December
New Year's Eve Gala - 31 December
So here we go again. Our next Christmas musical. This time the Greatest Movie Musical of All Time… SINGIN' IN THE RAIN.
A brilliant script, show-stopping choreography and a hit-parade score of Hollywood standards including Make 'em Laugh, You Are My Lucky Star, Good Mornin' and of course the one that you will all be waiting for…Singin' in the Rain – and yes, there will be real rain!!
All brought to you by the talented team of Director Joseph Pitcher, Musical Arranger Charlie Ingles and Choreographer Ashley Nottingham.
All tickets before 23 December will include a delicious Christmas buffet and from Boxing Day onwards an equally delicious two-course meal. And don't forget our special New Year's Eve Gala with more food and entertainment after the show to see you into 2020!
Set in Hollywood in the waning days of the silent screen era, SINGIN' IN THE RAIN centres on romantic lead Don Lockwood, his sidekick Cosmo Brown, aspiring actress Kathy Selden, and Lockwood's leading lady Lina Lamont, whose less-than-dulcet vocal tones make her an unlikely candidate for stardom in the transition from silent films to "talkies".
If you enjoyed HIGH SOCIETY, MY FAIR LADY or last year's GUYS & DOLLS at The Mill, you will not want to miss this irresistibly charming show, playing at The Mill from 30 November 2019 – 8 February 2020. All tickets include a delicious two-course meal in the restaurant before the show.
Composite decking supplied by DeckPlus
FOR MATINEE PERFORMANCES:
Restaurant open and serving lunch from 12.15pm – 2pm
Performance starts 2.15pm
FOR EVENING PERFORMANCES
Restaurant open and serving dinner from 6.15pm – 8pm
Performance starts 8.15pm
SINGIN' IN THE RAIN
Screenplay by BETTY COMDEN and ADOLPH GREEN
Songs by NACIO HERB BROWN and ARTHUR FREED
Based on the classic Meto-Goldwyn-Mayer film, by special arrangement with Warner Bros. Theatre Ventures Inc.
Music Published by EMI, all rights administered by Sony/ATV Music Publishing LLC
(Original Movie Choreography by Gene Kelly and Stanley Donen)
Produced by agreement with Maurice Rosenfield, Lois F. Rosenfield and Cindy Pritzker, Inc.
Performed by arrangement with Music Theatre International (Europe) Limited
Director
Joseph Pitcher
Musical Arrangements, New Orchestrations & New Incidental Music by:
Charlie Ingles
Choreographer
Ashley Nottingham
Musical Director
Francis Goodhand
Set Designer
Diego Pitarch
Costume Designer
Natalie Titchener
Lighting Designer
James Platt
Sound Designer
Joshua Robins
Projection Designer
Tapio Snellman
Dialect Coach
Liz Flint
Fight Director
Jeremy Barlow
Production Photography
Andreas Lambis
Cast List
PHILIP BERTIOLI
-
Don Lockwood
BRENDAN CULL
-
Cosmo Brown
REBECCA JAYNE-DAVIES
-
Kathy Selden
SAMMY KELLY
-
Lina Lamont
NATALIE BENNYWORTH
-
Olga Mara/Ensemble
OLIVER BINGHAM
-
J Cumberland Spendrill 3rd/Ensemble
CONNOR HUGHES
-
Rod/Production Tenor/Ensemble
ELLA MARTINE
-
Zelda Zanders/Ensemble
SORELLE MARSH
-
Dora Bailey/Miss Dinsmore/Ensemble
JOHN MCMANUS
-
Roscoe Dexter/Ensemble
JONATHAN NORMAN
-
Phillips/Ensemble
HEATHER SCOTT-MARTIN
-
Miss Caldwell/Dance Captain/Ensemble
DAISY STEERE
-
Mary Margaret/Ensemble
RUSSELL WILCOX
-
RF Simpson
Musicians
FRANCIS GOODHAND
-
Piano/Musical Director
JOE ATKIN-REEVES
-
Reed (Clarinet, Flute, Alto-Sax, Picc)
STEVE FAWBERT
-
Drums/Percussion
GREG NICHOLAS
-
Trumpet/Flugelhorn
MARCUS PRITCHARD
-
Double Bass
Reviews
"A joy-filled experience. Gene Kelly is a tough act to follow but Philip Bertioli delivers a West End-quality performance and the tap routine for 'Moses Supposes' and 'Fit as a Fiddle' are terrific"
The Reviews Hub
"A delightful production, attention to detail is first-rate and a cast of 14 plus 5 musicians provide a rather impressive musical experience!"
LondonTheatre1
"The Mill at Sonning has another winner! The principals, Philip Bertioli as Don Lockwood, Rebecca Jayne-Davies as Kathy Selden and Brendan Cull as Cosmo Brown are all excellent: their dancing dazzles and their singing soars. Sammy Kelly's comic turn as shrill silent star, Lina Lamont, is also a delight, and the rest of the cast are equally wonderfully talented and energetic. Full credit to director, Joseph Pitcher, for this production which completely captivates and immerses us'"
London Living Large
"Beautiful, romantic and a huge amount of FUN! The water doesn't just run under the mill here, it floods the stage alongside a bucketful of energy, talent and joy"
BreakALeggers
"Packed to the rafters with music from a live band, dancing to rival Strictly and side-splitting comedy, Singin' in the Rain is truly another triumph from this popular local theatre"
The Wokingham Paper
"You'll be hard pressed to find a more impressive show in London than this production"
Broadway World
"Such an iconic movie requires authenticity and empathetic creativity when transferring to the stage and The Mill At Sonning's production provides it in floods – literally!"
Musical Theatre Review
"It's cold outside and rainin' inside The Mill this winter but the theatre's new show is pure sunshine. The audience adored it"
Maidenhead Advertiser
"Every musical number was a joy to watch, Philip Bertioli and Brendan Cull make Ashley Nottingham's choreography look easy and elegant, I was mesmerised whenever Rebecca Jaynes-Davies sang, although not quite as captivated as when the rain sequences began!"
thelivereview.co.uk
"In Joseph Pitcher's perfectly proportioned production, music, glamour and charm, a downpour and a surprise splash or two has rarely been so joyous!"
The Stage