Tickets Include Two-Course Meal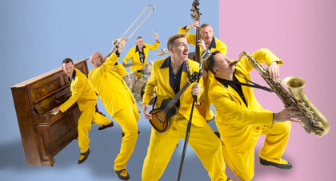 Showing:
18 June
Bar from 6pm
Dinner from 6.15pm
Performance from 8.15pm
The Jive Aces are a very well known British Swing Band with a legendary show. They have appeared in over 40 countries around the world, including such iconic venues as Hyde Park, Trafaigar Square, Buckingham Palace several times, including The Coronation Festival.
Their TV appearances include Britain's Got Talent and Strictly Come Dancing. They are the UK's No. 1 Jive & Swing Band.