A Comedy by Alan Ayckbourn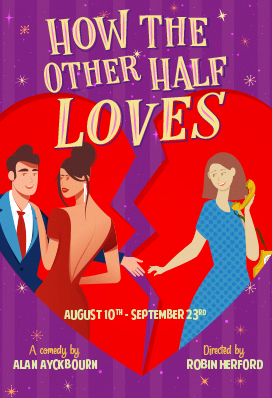 Showing:
10 August - 23 September
Evening shows Wed - Sat
Thurs matinees until 31 August
Sat matinees every week
Sun matinees from 3 Sept
ALL TICKETS INCLUDE A DELICIOUS TWO-COURSE MEAL IN THE RESTAURANT BEFORE THE SHOW. 
FOR MATINEE PERFORMANCES:
Restaurant open and serving lunch from 12.15pm – 2pm
Performance starts 2.15pm
FOR EVENING PERFORMANCES
Restaurant open and serving dinner from 6.15pm – 8pm
Performance starts 8.15pm
Directed by Robin Herford
Meet three married couples. The Fosters – Frank & Fiona. The Philips – Bob & Teresa. And The Featherstones – William & Mary.
Frank employs Bob and William. Fiona is having an affair with Bob. Teresa is suspicious of Bob, who covers up his adultery by shoving the blame onto his colleague William.
William suspects Mary is having an affair. Fiona, to ward off Frank's questioning, tells him that she has been comforting Mary, who also suspects that William is having an affair… Got that?
Of course William & Mary are the innocent parties tangled in Fiona & Bob's web of deceit. You can only imagine what complications, revelations and big laughs will ensue…
Alan Ayckbourn is one of Britain's most celebrated playwrights. HOW THE OTHER HALF LOVES is one of his cleverest, funniest and entertaining plays. We are also delighted to have Robin Herford direct. Robin was associate director of Ayckbourn's Scarborough company and the man responsible for the West End's WOMAN IN BLACK.
A riotous and hilarious time is guaranteed.
Director
Robin Herford
Set Designer
Michael Holt
Costume Designer
Natalie Titchener
Lighting Designer
Matthew Biss
Cast List
Stuart Fox
-
Frank Foster
Ruth Gibson
-
Teresa Phillips
Julia Hills
-
Fiona Foster
Damien Matthews
-
Bob Phillips
Emily Pithon
-
Mary Featherstone
Ben Porter
-
William Featherstone