Summer Musical 2023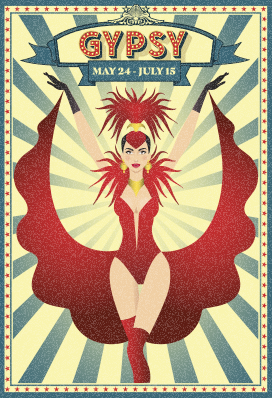 Showing:
24 May - 15 July
Evening Shows Wed - Sat
Sat Matinees Every Week
Sun Matinees from 4 June
Thurs Matinees from 15 June
ALL TICKETS INCLUDE A DELICIOUS TWO-COURSE MEAL IN THE RESTAURANT BEFORE THE SHOW. 
FOR MATINEE PERFORMANCES:
Restaurant open and serving lunch from 12.15pm – 2pm
Performance starts 2.15pm
FOR EVENING PERFORMANCES
Restaurant open and serving dinner from 6.15pm – 8pm
Performance starts 8.15pm
The Mill is delighted to announce that our much awaited Summer Musical is the legendary GYPSY – the story of the burlesque performer Gypsy Rose Lee and her ultimate showbiz mother – Rose. Rose has ambitions for her two daughters and we follow her dreams and efforts to push them to stardom.
New York Theatre critic Clive Barnes wrote that "Gypsy is one of the best of musicals…" With a fabulous score by Jules Style and clever lyrics from Stephen Sondheim, including the memorable songs Let Me Entertain You, Everything's Coming Up Roses, You Gotta Have a Gimmick, Some People and All I Need Is The Girl.
The Mill is lucky to have some great creatives for their musicals. This production will be created by the team that brought you My Fair Lady and Singin' In The Rain – Director Joseph Pitcher and Musical Director Francis Goodhand.
Casting by Pearson Casting CDG.
Once again the Mill audience will be astounded at what can be achieved on our bijou stage. A real treat, not to be missed!
A Musical Fable, Book by Arthur Laurents
Music by Jule Styne, Lyrics by Stephen Sondheim
Suggested by memoirs of Gypsy Rose Lee
Original Production by David Merrick and Leland Hayward
Entire production originally directed and choreographed by Jerome Robbins
Director and Choreographer
Joseph Pitcher
Set Designer
Jason Denvir
Musical Arrangements and Musical Director
Francis Goodhand
Costume Designer
Natalie Titchener
Lighting Designer
Nic Farman
Sound Designer
Chris Whybrow
Cast List
Daniel Crowder
-
Herbie
Evelyn Hoskins
-
Louise
Samuel How
-
LA
Tim Maxwell-Clarke
-
Pop
Buna McCreery-Njie
-
Kansas
Seren Sandham-Davies
-
Agnes
Marina Tavolieri
-
June
Rebecca Thornhill
-
Rose
Laura Tyrer
-
Tessie
Susannah Van Den Berg
-
Mazeppa
Joseph Vella
-
Yonkers
Charlie Waddell
-
Tulsa
Natalie Winsor
-
Electra
Musicians
Susannah van den Berg
-
Clarinet & Accordion
Seren Sandham-Davies
-
Tumpet & Flugelhorn
Tim Maxwell-Clarke
-
Clarinet & Alto Saxophone
Joe Atkin-Reeves
-
Flute, Clarinet, Soprano Saxophone & Alto Saxophone
Alexia Barbera
-
Double Bass
Callum White
-
Drums & Percussion
Francis Goodhand
-
Keyboards
Reviews
★★★★★ "This, I urgently must tell you, is rather wonderful: an example of the way that sometimes a big show in a small theatre can be a revelation."
Libby Purves, TheatreCat
★★★★★ "The quality of The Mill At Sonning productions continues to astound, rivalling anything you might see on the West End. And as for Gypsy, this dream of production will entertain you, and then some"
Theatre Weekly
★★★★ "The Mill at Sonning regularly punches above its weight. This 'Gypsy' captures the spirit of an era, serving up a potent cocktail of soured dreams and tawdry glamour. It's a vivacious revival"
Clive Davis, The Times
★★★★★ "A rattling good revival of a rattling good musical. You could transport Joseph Pitcher's ambitious production lock, stock, and barrel to any West End stage and it would not look a bit out of place"
Musical Theatre Review
★★★★★ "Electrifying 'Gypsy' at The Mill at Sonning Theatre is mesmerizing, nothing short of magic. It will leave you begging for more... and you will get goosebumps!"
North West End
★★★★★ "The Mill at Sonning Theatre pulls out all the stops for this musical and they have scored again - it feels on the scale of a West End production! And the cast is phenomenal, every one of them!"
Theatre Reviews Design
★★★★★ "A classic musical gets a first-rate production! Joseph Pitcher's direction and choreography is pitch perfect. All of the cast bring their A-game and the energy is electrifying"
London Living Large
★★★★★ "A great production at The Mill at Sonning Theatre 'Gypsy' is back and maybe even better than the recent West End revival - as Rose, Rebecca Thornhill blew the audience away!"
Theatre and Tonic
★★★★★ "Choreography and production values to equal any West End or Broadway revival"
Spy in the Stalls
★★★★★ "A renovated mill on a picturesque islet in the Thames in one of the most idyllic parts of rural Oxfordshire may be worlds away from the intensity and bustle of Manhattan but the Broadway-level energy and know-how on display here right now is transformative. Is Gypsy the perfect musical? It's hard to say for sure, but this inspired production makes a very strong case for it. Plus you get dinner (or lunch at matinees)…what's not to love? Literally nothing."
Whats On Stage
★★★★★ "Rebecca Thornhill gives a 5 star performance as Mama Rose"
Reviewsgate
★★★★★ "With no weak link in the casting, I cannot recommend this show delivered with both affection and panache too highly, The ultimate early Summer feel-good experience"
Plays to See
★★★★ "A delight from start to finish, it's impossible to watch without a smile on your face, it's a luxurious production, sizzling with glamour, and makes for the perfect summer spectacle"
Lost in Theatreland
★★★★ "Rebecca Thornhill glitters with pent-up emotion and packs every note of every number with feeling especially in "Rose's Turn" - if you want star quality, look no further"
Sardines Magazine
★★★★★ 5 stars for "a spine-tingling" GYPSY "This is a show that every fan of musical theatre should run to see, and anyone with even a modicum of interest in theatre should add to their must-see list"
The Reviews Hub
★★★★ "GYPSY 'glistens on stage' at the Mill At Sonning"
Broadway World
"A joyful, beautifully-staged romp of a production under Joseph Pitcher's meticulous direction, the chemistry is compelling and the perfect choice for the gorgeous Mill At Sonning"
London Grip
★★★★ "Evelyn Hoskins' Louise is awkward and hunched, painfully shy and desperate for her mother's affection. It's almost inconceivable that she could transform into a burlesque superstar, but it's a breathtaking metamorphosis"
The Stage
★★★★★ "Rebecca Thornhill and Evelyn Hoskins are, frankly, a delight in this wonderful 5-star production!"
Curtain Call Reviews
★★★★ "GYPSY at The Mill At Sonning is "definitely one of the highlights of the season"
Broadway Baby
"Gypsy is nothing less than a triumph for The Mill at Sonning - worth travelling many miles to see!"
Number 9 Reviews