Summer Musical 2023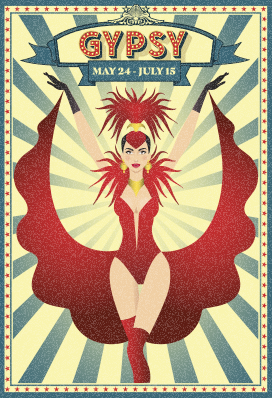 Showing:
24 May - 15 July
Evening Shows Wed - Sat
Sat Matinees Every Week
Sun Matinees from 4 June
Thurs Matinees from 15 June
ALL TICKETS INCLUDE A DELICIOUS TWO-COURSE MEAL IN THE RESTAURANT BEFORE THE SHOW. 
FOR MATINEE PERFORMANCES:
Restaurant open and serving lunch from 12.15pm – 2pm
Performance starts 2.15pm
FOR EVENING PERFORMANCES
Restaurant open and serving dinner from 6.15pm – 8pm
Performance starts 8.15pm
The Mill is delighted to announce that our much awaited Summer Musical is the legendary GYPSY – the story of the burlesque performer Gypsy Rose Lee and her ultimate showbiz mother – Rose. Rose has ambitions for her two daughters and we follow her dreams and efforts to push them to stardom.
New York Theatre critic Clive Barnes wrote that "Gypsy is one of the best of musicals…" With a fabulous score by Jules Style and clever lyrics from Stephen Sondheim, including the memorable songs Let Me Entertain You, Everything's Coming Up Roses, You Gotta Have a Gimmick, Some People and All I Need Is The Girl.
The Mill is lucky to have some great creatives for their musicals. This production will be created by the team that brought you My Fair Lady and Singin' In The Rain – Director Joseph Pitcher and Musical Director Francis Goodhand.
Casting by Pearson Casting CDG.
Once again the Mill audience will be astounded at what can be achieved on our bijou stage. A real treat, not to be missed!
A Musical Fable, Book by Arthur Laurents
Music by Jule Styne, Lyrics by Stephen Sondheim
Suggested by memoirs of Gypsy Rose Lee
Original Production by David Merrick and Leland Hayward
Entire production originally directed and choreographed by Jerome Robbins
Director and Choreographer
Joseph Pitcher
Set Designer
Jason Denvir
Musical Arrangements and Musical Director
Francis Goodhand
Costume Designer
Natalie Titchener
Lighting Designer
Nic Farman
Sound Designer
Chris Whybrow
Cast List
Daniel Crowder
-
Herbie
Evelyn Hoskins
-
Louise
Samuel How
-
LA
Tim Maxwell-Clarke
-
Pop
Buna McCreery-Njie
-
Kansa
Seren Sandham-Davies
-
Agnes
Marina Tavolieri
-
June
Rebecca Thornhill
-
Rose
Laura Tyrer
-
Tessie
Susannah Van Den Berg
-
Mazeppa
Joseph Vella
-
Yonkers
Charlie Waddell
-
Tulsa
Natalie Winsor
-
Electra
Musicians
Joe Atkin-Reeves
-
Musician
Alexia Barbera
-
Musician
Callum White
-
Musician