"Irving Berlin's songs glitter and dazzle in this intimate revival" - The Times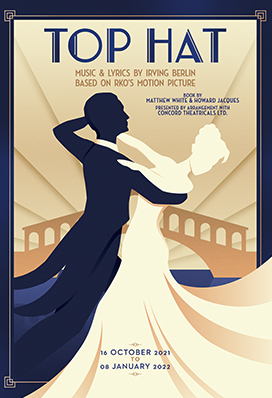 Showing:
16 October - 8 January
Evening shows from Tue - Sat
Sat matinees every week
Sun matinees from 24 Oct
Sun evenings from 12 - 26 Dec
FOR MATINEE PERFORMANCES:
Restaurant open and serving lunch from 12.15pm – 2pm
Performance starts 2.15pm
FOR EVENING PERFORMANCES
Restaurant open and serving dinner from 6.15pm – 8pm
Performance starts 8.15pm
Evening shows from Tue – Sat
Sat matinees every week
Sun matinees from 24 Oct
Sun evenings from 12 – 26 Dec
Extra matinees on Wed 22 Dec, Thurs 23 Dec, Thurs 30 Dec 2021
No shows on 24, 25, 27, 28 Dec 2021
Thurs matinees on 18 & 25 Nov, 2 Dec, 6 Jan (Show Only – No Food)
Top Hat has received rave reviews from critics and audiences alike, even featuring as The Times' Critics' Choice with a fabulous 4 star review from Clive Davis.
All tickets include a delicious two-course meal in the restaurant before the show, except for Thursday matinees from 4 November – 2 December 2021 (plus 6 January 2022 which is show only – no food included).
From 23 November – 29 December 2021 we offer a  Christmas Menu. And don't forget our special New Year's Eve Gala with more food and entertainment after the show to see you into 2022!
Top Hat brings the glamour of Hollywood's golden age and the magic of the world famous dance partnership of Fred Astaire & Ginger Rogers to the stage. This 2011 musical based on the 1935 film of the same name, tells the story of Broadway sensation Jerry Travers who dances his way across Europe to win the heart of society girl Dale Tremont. With an uplifting and entertaining script, this show celebrates 1930s song, style and romance. Underpinning every scene are Irving Berlin's magnificent songs including Puttin' on the Ritz, Cheek to Cheek, Isn't This A Lovely Day, and of course, Top Hat, White Tie & Tails.
Please note that there is no 4 for 3 ticket offer on performances of Top Hat.
La Duca tap shoes kindly sponsored by Len & Ann Roberts
The chorus line of Top Hat & Tails kindly sponsored by Rob & Julie Spendley of Robertsons & Crawford Ltd
Billie Kay's CHEEK to CHEEK feathered gown kindly sponsored by Mrs Jasmine Huxtable 
TOP HAT is presented by arrangement with Concord Theatricals Ltd. www.concordtheatricals.co.uk
Music & Lyrics by Irving Berlin
Based on RKO's Motion Picture
Book by Matthew White & Howard Jacques
Production Photography by Andreas Lambis. https://www.andreaslambis.com/
Important Information for your Visit – Covid Safety Instructions
For the safety and reassurance of our guests, we kindly request that all audience members over the age of 11 bring with them proof of double vaccination. You can present this via the NHS Covid Pass within the NHS App or by showing your NHS Covid Pass Letter or the card that you were given at the vaccination centre.
For extra safety, we are also now requesting that customers bring a negative lateral flow test along with them. Please do this test on the day of the performance that you are attending.
To help with the smooth operation of your visit it would be greatly appreciated if you could have your proof of double vaccination and negative lateral flow test ready to show as you enter The Mill.
In accordance with the government's announcement that mask wearing is now mandatory we ask all patrons to wear masks when walking around the building, ordering at the bar and while watching the show. All of our staff will be wearing masks and they all take lateral flow tests regularly. The performers test every day to enable them to work without masks.
Your cooperation is much appreciated.
Enjoy your visit!!
Director
Jonathan O'Boyle
Choreographer
Ashley Nottingham
Set Designer
Jason Denvir
Costume Designer
Natalie Titchener
Sound Designer
Chris Whybrow
Musical Arrangements
Francis Goodhand
Musical Director
Chris Poon
Lighting Designer
Nic Farman
Original Orchestrations & Arrangements
Chris Walker
Production Photography
Andreas Lambis
Cast List
Jack Butterworth
-
Jerry Travers
Joel Baylis
-
Ensemble/Swing
Natalie Bennyworth
-
Ensemble
Charlie Booker
-
Ensemble
Charlotte Coggin
-
Ensemble/Swing
Brendan Cull
-
Bates
Jinny Gould
-
Ensemble
Tiffany Graves
-
Madge Hardwick
Alex Harrison
-
Ensemble
Connor Hughes
-
Ensemble
Billie-Kay
-
Dale Tremont
Paul Kemble
-
Horace Hardwick
Meg Power
-
Ensemble
Delme Thomas
-
Alberto Beddini
Musicians
Chris Poon
-
Keys/Conductor
Joe Atkin-Reeves
-
Flute/Alto Saxophone/Clarinet
Callum White
-
Drum/Tuned Percussion/Timpani
Reviews
Plenty of vim and heart in this Irving Berlin revival, with Cole Porter's glorious Anything Goes still pulling in the crowds, Jonathan O'Boyle's celebration of the songs of Berlin arrives at the right moment
The Times
Director Jonathan O'Boyle and choreographer Ashley Nottingham have packed an astonishingly tight yet fluid range of action, movement and emotion, all given shape and drive by off-stage music under the supervision of Chris Poon...The Mill may be a small space but this production really is a jewel in a gilded box
Henley Standard
A sensational masterpiece of glitz, glamour and toe-tapping charm
Wokingham Today
While this would be quite at home on a West End stage and deserves more life once this run ends, get yourself to The Mill at Sonning and be one of the first to witness this absolute marvel of a production
All That Dazzles
Simply glorious production of the much-loved classic musical...If you've never been to the Mill on Sonning now is the time to grab yourself a ticket! If you've been before, definitely grab yourself a ticket because it exceeds expectations!
Mozart To Musicals
Slick and sophisticated musical escapism at its finest with never a step even half an inch out of place, this production warms all but the very hardest of hearts. No shortages of joy and delight to report here
LondonTheatre1
Something to raise your spirits sky high, this production is pure entertainment, beautifully directed by Jonathan O'Boyle, with a magical, toe-tapping cast - everyone from the principals to the ensemble, triple threats
AWTheatrics
1920s glamour and toe-tapping musical entertainment… the dancing is superb
Theatre and Arts Reviews
It's the whole package… a bijou theatre space of infinite charm, a musical full of elegance and style. To steal a line from another giant of musical theatre: 'Who could ask for anything more?'
Musical Theatre Review
There is literally no end to the talent in the performance both on stage and behind the scenes. Delicious food, a stunning venue and a spectacular performance, what more could you want?
The Live Review