The Monkees Tale at The Mill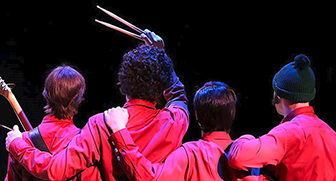 Showing:
26 March
Bar open from 6pm
Dinner from 6.15pm
Performance from 8.15pm
The MONKEES became a smash hit just weeks after the first episode of their TV comedy series in 1966. But why? How?
That first ever "manufactured" Boy Band was the brainchild of TV executives Bob Rafelson & Bert Schneider; selling MILLIONS of singles and albums…starting with Last Train to Clarkesville!
Yet even today it remains shrouded in mystery… What really happened behind the scenes?
Hear the uncensored truth about Davy, Micky, Mike & Pete…with all of the MONKEES hits performed live by a talented young band as our seasoned host unfolds the fantasy and fiction.
"I'm a Believer"… Are you?