Incredible Magic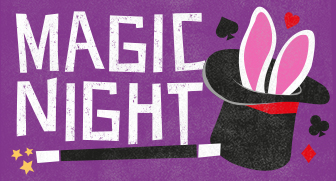 Dinner from 6pm
Performance starts at 8pm
Please check your designated arrival time
DAN HUDSON presents this show with his incredible magical friends who promise to amaze and astound you!
On Thursday 12 November you will be entertained by PAUL MARTIN and JEZ ROSE.
Paul Martin's mix of stand-up comedy, mind reading and magic is simply amazing. He will have the whole theatre in the palm of his hand and wanting more.
Jez Rose is a cognoscente of the unusual and collector of the curious, for more than a decade he defied a label, so he invented his own: The Unusualist. Invited to perform his distinctive and hilarious performances in more than 23 countries, his clients include international royalty, well-known faces from the world of celebrity, music and fashion. With more than 100 appearances on TV and radio.
When booking you will be given a designated arrival time. We politely ask you to keep as close to this time as possible to ensure a safe entrance to The Mill. Please remember that you will be required to wear a face covering when entering and moving within the building. You will also be asked to wear your face covering during the show. You can remove the face covering when safely seated at your restaurant table.