Get creative and join our brand new Knitting Club!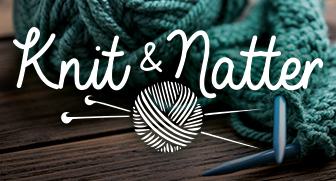 Every Tuesday morning
From 10.30am in the Waterwheel Bar
Entry £2.50 inc. knitting starter kit
Whether you are a novice with the needles or a wizard with wool, why not get creative and join The Mill's Knit & Natter club?
Taking place in the Waterwheel Bar every Tuesday morning (from 10:30am to approximately 12pm), our group is led by the lovely Evelyn Fidler. Having worked closely with our costume department, Evelyn is very experienced and can teach people to learn to knit from scratch or give as much help as needed for an entry fee of £2.50.
Beginners can turn up empty-handed or if you're an experienced knitter, just bring along your current project to work on. Our members are very friendly and are always excited to meet new members to exchange patterns and tips!
We are currently seeking donations of wool for the charity projects that some of our members enjoy working on. Kind-hearted members have previously knitted dignity shawls for the Royal Berkshire Hospital, twiddlemuffs for dementia patients at local carehomes as well as hats for orphans in Syria.
If you have some spare wool which you would like to see go to a good cause, please pop along and join us one Tuesday morning or if you are passing Sonning come in and hand it over to the Box Office.