An entertaining afternoon with Simon & Tam Williams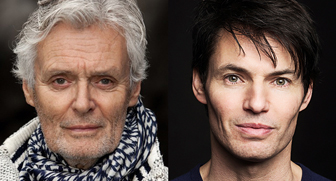 MATINEE PERFORMANCE
Lunch from 12 noon
Performance starts at 2pm
Please check your designated arrival time
As father and son, Simon & Tam Williams will be taking a look at their great love of theatre – it's in their blood.
Between them they have a wealth of memories, folklore, trade secrets, dirty linen and hilarious cock-ups to share.
A kiss 'n' tell between father and son.
Tickets include a Two Course À La Carte Meal with an Appetiser.
When booking you will be given a designated arrival time. We politely ask you to keep as close to your designated arrival time as possible to allow for a safe entrance to The Mill.
Please remember that you will be required to wear a face mask or visor when entering and moving within the building. You will also need to wear your face covering in the theatre. You will be allowed to remove your face covering when safely seated at your restaurant table.