A journey through the 50s and 60s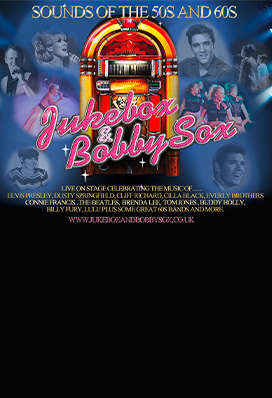 Bar from 6pm
Dinner from 6.15pm
Performance at 8.15pm
Jukebox and Bobbysox is a high energy show that will have audiences rockin' clapping and dancing in the aisles as they take you on a journey through the 50s and 60s celebrating the most influential decades in the history of music.
Songs instantly recognised by all ages including unforgettable tunes from Elvis Presley, Dusty Springfield, Cilla Black, The Everley Brothers, Connie Francis, Eddie Cochran, Billy Fury, The Beatles, Buddy Holly, Brenda Lea, Cliff Richard, Tom Jones, Lulu, The Supremes, many of the great 60s bands plus more
With a live band, colourful costumes and the Bobbysox Dancers it is a show that will not fail to entertain.
Tickets include a Two Course Meal in our restaurant before the show.
IMPORTANT INFORMATION FOR YOUR VISIT – COVID PASS INSTRUCTIONS
For the safety and reassurance of our guests, we kindly request that all audience members over the age of 11 bring with them proof of double vaccination, a negative COVID lateral flow test or natural immunity.
This can be done via one of the following ways:
Proof that you have received both doses of a COVID vaccination at least 14 days prior to your visit. You can present this certification via the NHS Covid Pass within the NHS app, or by showing us your vaccination card or your NHS Covid Pass letter (if you do not have a smart phone)
Proof of a negative lateral flow test via the NHS Covid App or a text message or email from NHS Test and Trace. This test must be taken within 48 hours of your visit
Proof of natural immunity based on a positive PCR test taken within 180 days of your visit. Please present this proof via the NHS Covid Pass within the NHS App or in the form of a letter via the NHS
To help with the smooth operation of your visit it would be greatly appreciated if you could have your proof ready to show as you enter The Mill.
Thank you for helping us keep our customers and staff safe.