Enjoy a Swellegant, Elegant Musical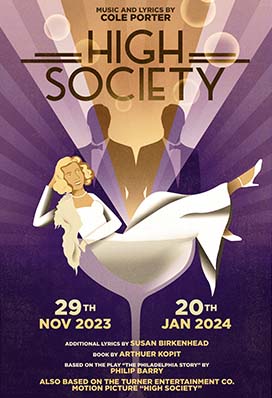 Showing:
29 November - 20 January
Evening shows Tue - Sat
Sat matinees every week
Sun matinees from 3 Dec, excluding Xmas Eve and New Year's Eve
Special New Year's Eve Gala

ALL TICKETS INCLUDE A DELICIOUS TWO-COURSE MEAL IN THE RESTAURANT BEFORE THE SHOW. 
FOR MATINEE PERFORMANCES:
Restaurant open and serving lunch from 12.15pm – 2pm
Performance starts 2.15pm
FOR EVENING PERFORMANCES
Restaurant open and serving dinner from 6.15pm – 8pm
Performance starts 8.15pm
Music and Lyrics by Cole Porter
Book by Arthur Kopit
Additional Lyrics by Susan Birkenhead
Based on the play "The Philadelphia Story" by Philip Barry
Also based on the Turner Entertainment Co. motion picture "High Society"
Directed by Joseph Pitcher
ENJOY A SWELLEGENT, ELEGANT MUSICAL THIS CHRISTMAS
You're invited to the wedding of the year, and what a swell party it's going to be!
Long Island socialite Tracy Lord is planning her lavish High Society nuptials with 700 guests and oceans of champagne. But who exactly will be the groom? Her fiancé – the self-made but boring George? Or her glamorous and dangerous ex-husband Dexter who turns up on the scene determined to win her back. Or maybe news reporter Mike Connor, who has been sent to cover the wedding for his tabloid paper and who falls head over heels in love with the captivating Miss Lord. Come and enjoy this swell party and find out which suitor she chooses.
Cole Porter's classic feel-good musical is based on THE PHILADELPHIA STORY and the 1956 film starring Bing Crosby, Grace Kelly and Frank Sinatra. Full of songs you know from True Love to Who Wants To Be A Millionaire, it is a Christmas extravaganza not to be missed.
On Friday and Saturday nights there will be live music in the bar after the show, with cocktails and champagne flowing. We encourage our audience to dress up and join in this swellegant, elegant party. And if you are booking for our special New Year's Eve Gala glamour is derigeur.