All Tickets Include Two-Course Meal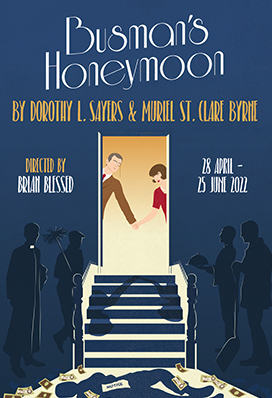 Showing:
28 April - 25 June
Evening shows from Wed - Sat
Sat matinees every week
Sun matinees from 7 May
Thurs matinees from 16 June
ALL TICKETS INCLUDE A DELICIOUS TWO-COURSE MEAL IN THE RESTAURANT BEFORE THE SHOW. 
FOR MATINEE PERFORMANCES:
Restaurant open and serving lunch from 12.15pm – 2pm
Performance starts 2.15pm
FOR EVENING PERFORMANCES
Restaurant open and serving dinner from 6.15pm – 8pm
Performance starts 8.15pm
The Mill is delighted to announce that Brian Blessed is once again directing a play. Not Agatha Christie this time, but her equal in crime novelists – Dorothy L Sayers.
Lord Peter Wimsey – upper crust sleuth – has married his lovely fiancee, Harriet Vane. But his honeymoon bliss is shattered when the dead body of the house's previous owner turns up in the cellar.
A brilliant whodunnit filled with thrills and humour!
This is what Brian has to say about the play:
Dorothy L Sayers is one of the greatest writers of The Golden Age of British crime fiction. This is her masterpiece! A love story with detective interruptions.
It is enriched with gorgeous characters that bring delightful humour to the story. And the murder method itself remains the most ingenious ever devised by any crime writer.
Please note, we have a signed performance on Wednesday 15th June. To book tickets, please call the Box Office on 0118 969 8000.
Director
Brian Blessed
Lighting Designer
Matt Biss
Set Designer
Michael Holt
Costume Designer
Natalie Titchener
Fight Director
Alison De Burch
Production Photography
Andreas Lambis
Cast List
Christian Ballantyne
-
Frank Crutchley
Helen Bang
-
Miss Twitterton
Luke Barton
-
Constable Sellon
Joanna Brookes
-
Mrs Ruddle
Chris Porter
-
Mr Macbride
Iain Stuart Robertson
-
Mr Puffet
James Sheldon
-
Lord Peter Wimsey
George Telfer
-
Bunter
Kate Tydman
-
Harriet
Noel White
-
Superintendent Kirk
Duncan Wilkins
-
Rev. Simon Goodacre