William Shakespeare's Twelfth Night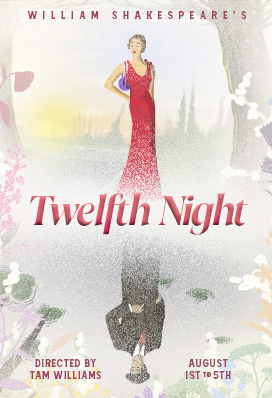 Showing:
1 August - 5 August
Mat & Eve shows every day
Matinees (Lunch)
Evening shows (Dinner)
Last year The Mill produced the incredibly successful run of STILL LIFE staged in the Waterwheel Bar . Directed by the clever Tam Williams and with a fabulously talented cast, we have been putting our heads together to come up with some more immersive entertainment using the backdrop of the beautiful Mill building in addition to its theatre, Tam decided to use the restaurant as the next venue.
And the play of choice is one of the most popular comedies ever written – TWELFTH NIGHT by William Shakespeare.
Lunch or Dinner will be served first and the hour long version of the play will then begin. The drama will be happening around you as you sit at your tables. The play, now set in the 1930s, is accompanied by the evocative music of that era. With some, if not all of the cast of STILL LIFE, the show will make you laugh and cry. With a shipwreck, star crossed lovers and of course the famous yellow crossed garters of one of Shakespeare's most famous comic characters – Malvolio. You will marvel at the ingenuity of the story-telling.
If you loved STILL LIFE you will adore TWELFTH NIGHT.
Matinees served with Lunch begin at 12pm with the show starting at 2pm
Evening shows served with Dinner begin at 6pm with the show starting at 8pm