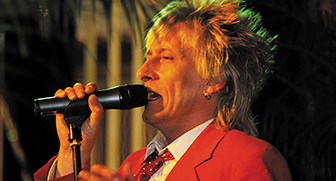 MATINEE AND EVENING PERFORMANCES
12pm for lunch, 2pm for matinee performance
6pm for dinner, 8pm for evening performance
Garry Pease not only looks like Rod Stewart he sounds like him too! In an all action, non-stop tribute show, Garry performs all of the favourites from Rod Stewart's vast portfolio of songs – everything from the early Faces days through to the Old American Songbook. To name a few Maggie May, Do Ya Think I am Sexy, Tonights the Night, You're in My Heart, You Wear It Well, Stay With Me, Baby Jane and Sailing.
Due to social distancing in the auditorium there will be two performances of THE ROD STEWART EXPERIENCE – Matinee & Evening