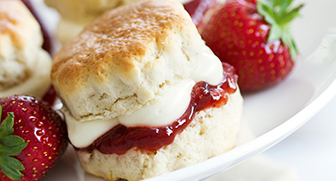 Arrive from 1:45pm
Tour starts 2:15pm
Afternoon Tea from 3:15pm
Spoil yourself with a scrumptious Afternoon Tea and Walk and Talk Tour of The Mill at Sonning.
For £30 per person, you can enjoy a 30-minute talk from Managing Director, Sally Hughes, followed by a backstage tour of the theatre and an indulgent cream tea in the Waterwheel Bar – including finger sandwiches, homemade cakes, freshly baked scones and more.
The tour will treat you to a 'behind-the-scenes' glimpse of our dressing rooms, costume department and the workshop where our sets are built and our most experienced members of staff will be on hand to answer any questions you have.
Kindly note, that due to the age and nature of the building, some areas of the backstage tour will not be suitable for wheelchair users. If you have mobility issues, please talk to the Box Office before visiting us.
Tour Times:
Arrive from 1:45pm
Tour starts 2:15pm
Afternoon Tea from 3:15pm