Noël Coward's Still Life, directed by Tam Williams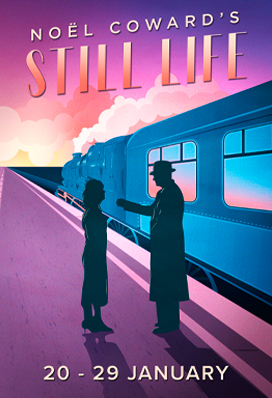 Showing:
20 January - 29 January
Thurs Matinees (3pm) on 20 & 27 Jan
Fri Evenings (7.30pm) on 21 & 28 Jan
Sat Matinees (3pm) on 22 & 29 Jan
Tickets are £25 each – Not including Food or Refreshments
You are cordially invited to attend a very exciting, immersive theatrical event in our Waterwheel Bar.
The bar will be transformed into the refreshment room at Milford Junction railway station. The year is 1936. The play is STILL LIFE, that poignant and romantic tale of forbidden love written by Noël Coward, the inspiration for David Lean's classic film BRIEF ENCOUNTER. Surely one of the most haunting love stories ever told about the secret love affair between suburban housewife Laura Jesson and an idealistic doctor, Alex Harvey, who, after a brief encounter, meet at the station cafe over the course of several weeks.
You, the audience, will sit at tables in the bar as if you are actually in the railway station itself. You can have lunch, supper or afternoon cream tea or just a cup of coffee with a Bath Bun, and while finishing your repast the play will begin right there amongst you. Played by a talented cast of actors with live music and steam train effects to add atmosphere. And waiters and waitresses dressed in period clothes.
We have a limited number of performances and seats so book soon. After all, you don't want to miss the train!
Please note that tickets do not include food or refreshments.
Important Information for your Visit – Covid Safety Instructions
For the safety and reassurance of our guests, we kindly request that all audience members over the age of 11 bring with them proof of double vaccination. You can present this via the NHS Covid Pass within the NHS App or by showing your NHS Covid Pass Letter or the card that you were given at the vaccination centre.
For extra safety, we are also now requesting that customers bring a negative lateral flow test along with them. Please do this test on the day of the performance that you are attending.
To help with the smooth operation of your visit it would be greatly appreciated if you could have your proof of double vaccination and negative lateral flow test ready to show as you enter The Mill.
In accordance with the government's announcement that mask wearing is now mandatory we ask all patrons to wear masks when walking around the building, ordering at the bar and while watching the show. All of our staff will be wearing masks and they all take lateral flow tests regularly. The performers test every day to enable them to work without masks.
Your cooperation is much appreciated.
Enjoy your visit!!
Director
Tam Williams
Cast List
Alasdair Craig
-
Alec
Elizabeth Elvin
-
Myrtle
Antony Jardine
-
Albert, Stanley, Bill, Johnnie
Emily Panes
-
Beryl, Mildred, Dolly, Young Man
Rachel Pickup
-
Laura