A Hilarious Comedy set in the London Underworld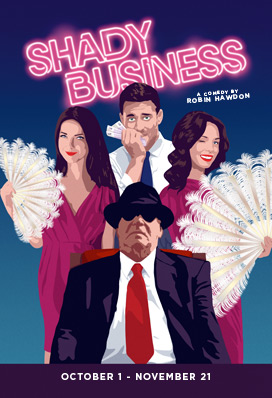 Showing:
1 October - 21 November
Evening shows from Tue - Sat.
Saturday matinees every week.
Sunday matinees from 11 October.
All tickets include a delicious two-course meal in the restaurant before the show.
FOR MATINEE PERFORMANCES:
Restaurant open and serving lunch from 12.15pm – 2pm
Performance starts 2.15pm
FOR EVENING PERFORMANCES
Restaurant open and serving dinner from 6.15pm – 8pm
Performance starts 8.15pm
October is traditionally comedy time at The Mill to give us laughter and fun as those winter evenings start to draw in. This high energy, laugh-a-minute farce – a cross between Some Like It Hot and The Sopranos – does just that. We are delighted to welcome back one of The Mill's favourite writers – Robin Hawdon – who is responsible for comedy classics Don't Dress For Dinner, Boeing, Boeing and A Night In Provence.
This hilarious farce centres on Mandy and Tania, two dancers working at a club owned by Mandy's boyfriend Big Mack, who just happens to be one of the biggest crime bosses in town. Mandy, however, has fallen madly in love with another man Gerry, a city broker whom she met at the club. Complications ensue when Terry, a new henchman, arrives with the weekly take from Mack's businesses. The money is short! And the boss is on his way to collect.
Mandy and Tania have to hide Gerry. Have to find the missing money. As well as keep Big Mack and his musclemen – Dozer and Harry the Hammer – from learning the truth.
The comic twists and turns are side-splitting – lies compound lies, deceptions mean more deceptions, people pretend to be other people – confusion and general hilarious mayhem ensue.
This play takes off from the very first moment and never slows down. You will be exhausted from laughing so much!!