Incredible Magic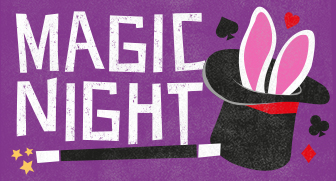 Dinner from 6pm
Performance starts at 8pm
Please check your designated arrival time
DAN HUDSON presents this show with his incredible magical friends who promise to amaze and astound you!
On Thursday 10 December you will be entertained by MARK JAMES and PETER WARDELL.
Mark James combines expert sleight of hand magic with comedy, juggling and other vaudevillian variety skills to create a unique and amazing show. He regularly performs at The World Famous Magic Castle Hollywood, House of Cards, Nashville and Chicago Magic Lounge as well as providing magic on The Orient Express. " A very funny man and huge personality"
Paul Wardell – From the streets of Covent Garden to being a headline act for corporate clients and on some of the most exclusive cruise ships in the world. 30 years of experience and several awards mean that you get a show that you will remember for a long time to come!
When booking you will be given a designated arrival time. We politely ask you to keep as close to this time as possible to ensure a safe entrance to The Mill. Please remember that you will be required to wear a face covering when entering and moving within the building. You will also be asked to wear your face covering during the show. You can remove the face covering when safely seated at your restaurant table.