One of Ray Cooney's funniest plays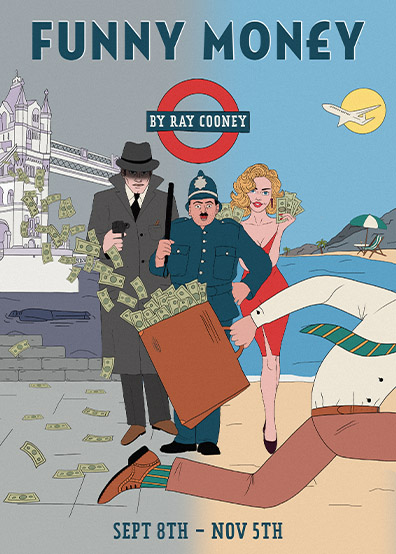 Showing:
8 September - 5 November
Evening performances from Wed - Sat.
Saturday matinees every week.
Sunday matinees from 18 Sept.
Ray Cooney is The Mill's hero. Not only did he help us survive those early days of the pandemic, but also every year since 1989 Mill audiences have been entertained by his comedies. It seemed fitting that in the Autumn of 2021 we named the auditorium The Ray Cooney Auditorium. And this year we are presenting one of his funniest plays – FUNNY MONEY.
On the way home one night Henry Perkins, a mild-mannered accountant, picks up the wrong briefcase on the Tube. Inside the briefcase Henry finds, in the place of his usual cheese & pickle sandwich, £1.5million in used notes!
So naturally he decides to flit to sunny Spain with his wife and best friends Vic & Betty. Bliss! But then, enter two coppers. One to arrest him for erratic behaviour in the local pub. The other to ask him to identify the corpse of a murdered man……also called Henry Perkins! Calamity! What ensues is a spiralling confusion of fibs, false names and frantic deceptions.
This hilariously funny West End hit, by the Master of Comedy, is packed with fun and laughs galore. Two hours of inspired comedy bliss that defies you not to laugh out loud.