All Tickets Include Two-Course Meal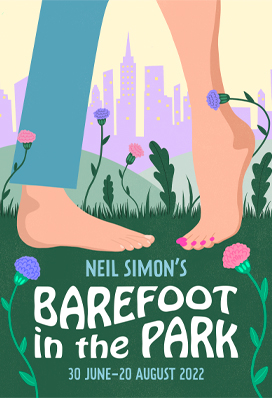 Showing:
30 June - 20 August
Evening shows Wed - Sat
Thurs & Sat matinees every week
Sun matinees July 10, 17, 24 & 31
ALL TICKETS INCLUDE A DELICIOUS TWO-COURSE MEAL IN THE RESTAURANT BEFORE THE SHOW. 
FOR MATINEE PERFORMANCES:
Restaurant open and serving lunch from 12.15pm – 2pm
Performance starts 2.15pm
FOR EVENING PERFORMANCES
Restaurant open and serving dinner from 6.15pm – 8pm
Performance starts 8.15pm
BAREFOOT IN THE PARK is one of the most beloved comedies of Neil Simon.
Newlyweds Corrie and Paul Bratter are excited to begin their life together in their new apartment in Manhattan. It may be small and a six-flight climb, the heating may be busted and snow may be falling through the skylight, but nothing can quash their newlywed bliss. Paul is a straight-laced lawyer and Corrie a romantic free-spirit; nevertheless, opposites attract and the two are wild about each other. Corrie decides to set her conservative widowed mother up with their eccentric, bohemian neighbour – Mr Velasco. A wild night ensues, one that highlights just how different Corrie and Paul are. The young couple must learn how to accept and embrace their differences as they learn that marriage is no easy walk in the park – shoes or no shoes.
BAREFOOT IN THE PARK is presented by arrangement with Concord Theatricals Ltd. On behalf of Samuel French Ltd. 
Production Photography taken by Andreas Lambis Photography
Director
Robin Herford
Set Designer
Michael Holt
Cast List
Rachel Fielding
-
Mrs Banks
Jonny Labey
-
Paul Bratter
Hannah Pauley
-
Corrie Bratter
James Simmons
-
Victor Velasco
Oliver Stanley
-
Harry Pepper
Tom Campion
-
Male Standby
Hollie Sullivan
-
Female Standby